LIFESTYLE GUIDE: BERLIN
Alanna Lawley is the founder of Foodadit – a platform created to help people share personal stories about everyday food and health. She is a firm believer in seeing challenges as opportunities and that we can learn a lot from sharing our experiences with each other. Alanna is also an accomplished artist and an Iyengar yoga practitioner.
For the past twenty years, Carlin Greenstein has been a private chef and culinary wellness coach to families and entertainment industry professionals. Focused upon local, seasonal cuisine, Carlin helps people attain health goals through cooking and meal plans. She also consults with individuals on how to use the kitchen as the means to live healthier, more fulfilling lives. Carlin is an avid runner and has run nearly a dozen races, including two marathons.
Upon meeting in Berlin last year, these two expats became fast friends and frequent collaborators, sharing a passion for all things health and culinary related.
We are thrilled to share their mini-guide of their favorite spots for moving, eating, drinking and recovering below.
Berlin is an amazing city to explore by foot, but when you're on your feet all day you'll be due for a little pampering. This discrete boutique offers massage therapy and facial treatments using the natural, high-quality oils formulated by Ryoko Hori herself. Do yourself a favor and book that treatment well in advance. It will not only be refreshing, but revitalizing and you'll be ready to continue to discover Berlin with enthusiasm. And if not for a treatment, there are regular offerings such as meditation classes and workshops exploring the ancient art of Kintsungi and the sensory ritual of drinking tea. The boutique also sells perfumes and natural oils, perfect to tuck into into your carry-on for the flight home.
The boutique is open every Saturday from 12:00 - 18:00, or by appointments (via email only to mail@ryokohori.com).
Susanne Kaufmann Boutique Spa at Das Stue
Northern Europeans know how to survive the dark days of winter, and the Susanne Kaufmann Boutique Spa is one of them in Berlin. Kaufmann has combined luxurious regeneration techniques with the knowledge of traditional Chinese medicine and sells her own line of beauty products.
Be sure to get there a few minutes early to open your pores in the Finnish glass sauna. It's 100% worth it. It will take the chill out of the days in the deepest of winter or is a wonderful, relaxing treat at any time of year. Ahhhhhh….
Daluma makes nutritious food sexy, a big draw for the health conscious crowds of Mitte. Their philosophy stems from the simple tenants of sourcing high quality ingredients, nutritionally dense yet uncomplicated dishes meeting different dietary preferences and needs.
The menu is divided into breakfast (served all day), salads and warm bowls. For breakfast go for the 'I want it all' which includes servings of chia pudding, probiotic muesli, coconut yoghurt with all the toppings. For lunch, 'New coal and the greens' with its activated charcoal hummus, quinoa salad with kale, bok choy and snap peas has a satiating lightness about it.
Need a little clean start-me-up from a late night or AM workout? This tiny takeaway shop featuring cold-pressed juices and nut milks is not to be missed. From the replenishing juices to divine chocolate milk, this place has it all. They're open Monday through Saturday and make deliveries on Monday, Wednesday and Friday. Don't miss their Moon Cleanse. Take a break from beer and drink up!
TIERGARTEN
Berlin is a city of many lives and faces. While many come for the notorious clubs and nightlife, visitors are starting to get hip to the fact that Berlin is also a world class running city. Yes, the marathon is well known, but for the recreational runner to the multi-kilometer expert, the greenery and urban parks provide an incredibly inspirational location for outdoor exercise. The city's central park, Tiergarten, formerly used at the hunting ground for the Prussian Royals, is a perfect expanse of forest honeycombed with padded dirt trails or asphalt.
When you're done with your run grab brunch at Café am Neuen See and watch the birds play tag on the lake while you down a pilsner or glass of Weisswein. It doesn't get much better.
The mecca for runners. Cross-training with HIIT classes, mobility and core strength focused workouts and even Vinyasa for that day when you don't want to run and need a good, deep stretch. Not in the mood to run alone through the Brandenburg Gate? The space is open daily and offers group runs several times a week. Don't forget to check out LAB KITCHEN for post-workout eats such as protein porridge, seasonal salads, or the daily lunch plate. And afterwards book a session with the in-house functional medicine doctor and nutritionist for an inner tune-up.
Since it's sponsored by Adidas the ability to try out new gear as its released is an added bonus to this otherwise social club for runners.
Most people will eat a pretzel or a sausage, drink a beer or a visit a football game for the quintessential German experience, but in our opinion it wouldn't be complete without a visit to a local sauna. Vabali is a great place to check this off your list. It's like you're in a small German village spa a stone's throw from the Hauptbahnhof. Inside you will marvel at the eleven different saunas and steam baths this health mecca has to offer. Don't let the German's open policy on nudity freak you out - nobody is looking at you anyway. Wearing a bathing suit commands far more attention.
Try heading later in the evening or early mornings and you might have the place to yourself. But best to expect large crowds at the weekends during the day.
Eva Kaczor yoga at the König Gallery
Ever done yoga in a former cavernous church now chic art gallery? Didn't think so. Gotta go for the experience in itself. Known worldwide for her YOGA MEETS ART classes every Wednesday at the König Gallery, Eva Kaczor is a generous and inspiring teacher of Vinyasa, Thyroid and Yin Yoga. She's also the founder of YOGIS ON SOUND and PSYCHEDELIC BREATH so taking a class with her is doing downward dog with a local legend. We've both experienced her Vinyasa yoga classes which are dynamic, core-strengthening and full of mindful assistance. Check her class schedule or book a private session with her on her Facebook page or email her directly at eva.kaczor@gmail.com for bookings.
Who wouldn't want to practice yoga here? A beautiful space with a community driven mission to go along? With loft like windows that expose the studio to natural light, the energy in this space is calming in any season. And the quality of teaching matches the beauty of the space. These lovely sister studios in Kreuzberg and Neukölln have created an urban haven. The international team of qualified instructors offering classes in everything from rigorous Ashtanga to restorative practices as well as courses in meditation, breath work, pranayama, yoga philosophy to round out the physical practice. Perfect for the traveler and the local alike, both studios are a 'community supported yoga project' with a sliding scale fee structure. There are no membership dues and classes can be purchased on the spot or by using a monthly pass. And best yet, no one is ever turned away for lack of funds.
Gelber Raum is a smaller more intimate studio while Studio Sonne is considerably larger, offering sound bath workshops and a wood-burning oven stoked in the winter.
Fresh. Local. Delicious. Affordable. Don't be swayed by the membership only vibe at The Soho House. The Store Kitchen is open to the public and offers one of the best lunches in Berlin. The space is large so it is rarely crowded and you can do the vegetarian plate or order off the menu. A typical day's offerings might include a handful of vegetarian, locally sourced salads such as roasted pumpkin with sage, spicy cucumbers with pecorino, citrusy Beluga lentils and a smashed minted peas and red-veined leafy greens. And if that doesn't strike you grab a stand by like the grilled cheese with gouda or an avocado toast on their in-house baked buckwheat bread. They also offer several warm dishes and two daily soups.
Waking up with heavy bags under your eyes and a nasty red wine hangover? That's a thing of the past now that Jeff at Naked Wine brings unfiltered and raw wine to the marketplace in Berlin. Minus the sulfites, you can enjoy a few glasses guilt free, waking up the next day feeling fantastic and ready to do it again (unless it's Monday when they close).
Naked Wine sells wine by the glass and hosts tastings at their Linienstrasse store front. They also work with their sister vinoteca, Jaja, in Neukölln, which features communal tables and delicious organic bites to go along with that unfiltered red you've never heard of but now cannot live without. You can order wines by the glass (always about 6-7 bottles open) and pair with beautifully composed, yet unfussy dishes like truffle ravioli, warm salad of radicchio and beet or spinach and mushroom flatbread.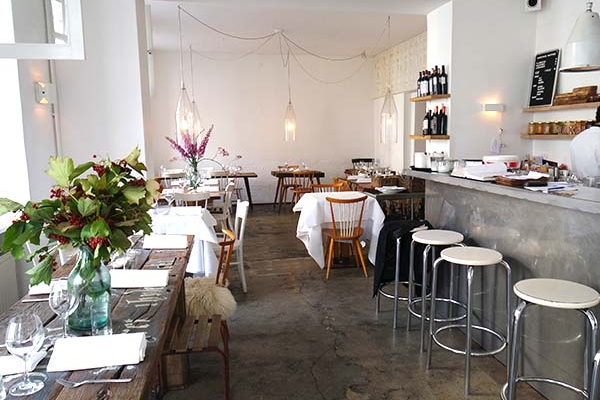 This spot lives up to its name, featuring a seasonally and regionally-inspired slow food menu with offerings such as curried beetroot with fennel, radish, and pumpernickel or lamb with asparagus, kohlrabi, rosehip, and sorrel.
It's the restaurant that everyone wishes was in their neighborhood. It's open daily for drinks, bites and dinner but reservations are essential or be prepared to eat late – the kitchen is open until just before midnight. And, you can always snag a bar stool for a smaller, yet delicious bar snack.
When a friend visits this is always a must see. Between the regional farms selling the most stellar fruits, vegetables, meats, poultry, fish, cheeses and baked goods available, to the artisanal vendors selling prepared foods, there is something here to make every belly happy. Thursday is always a party with Street Food Thursday showing off the consciously curated street food favorites from around Berlin. There are also specialty markets throughout the seasons such as Mexican Breakfasts, Mercato Italiano and more. Don't miss the Breakfast Market every third Sunday in the month.