LIFESTYLE GUIDE: IBIZA
Last year Léa Dassonville traded marketing, jewelry and her favorite spots on the Left Bank in Paris, for non-stop travel around the world. She has lived in London, New York, Los Angeles and Buenos Aires.... This summer, she dropped pin at her family's finca in Ibiza. From wellness spots to her secret dinner destinations, Léa is the perfect guide for a picturesque visit of the sexy Balearic island.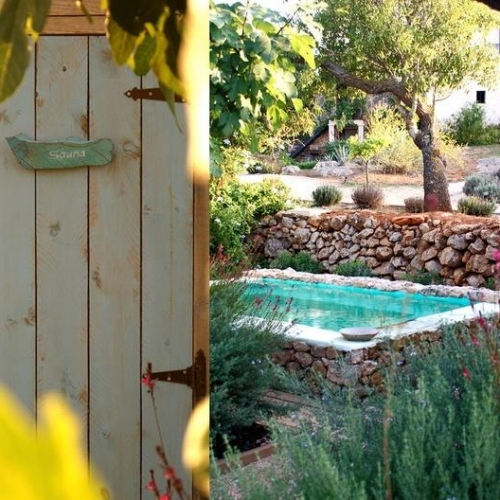 LIFESTYLE - ES CUCONS HOTEL
A really special finca, decorated with vintage pieces. One of my favorite spots for lunch, dinner or just a bucolic excursion, next to Santa Agnes. The hotel is a real haven. Built in 1652, Es Cucons was originally a farmhouse, and its atmosphere is very cosy. Connect with nature and experience tranquillity, Mediterranean cuisine and relaxation. On site activities include yoga classes, sauna and an outdoor hot tub with a view of the valley.

While you're in the area, I also recommend a stop at Puerta Del Cielo (for the sea view) and to Santa Agnes village.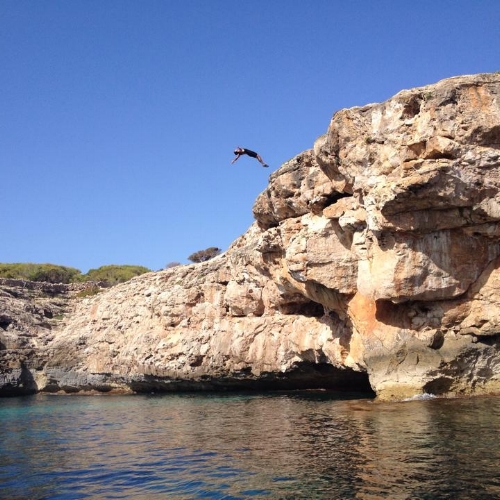 SPORTS - CLIFF DIVING IBIZA
Cliff Diving Ibiza knows all the spots for a thrilling plunge with no risk of breaking your beautifully tanned limbs. They organize exciting themed excursions on the island, urging you to face your fears by jumping from to the rocks into the crystal clear water below. The cliff jumping trips can be also combined with or replaced by snorkeling in secluded coves. They also provide a delicious organic picnic on the rocks, with some refreshing beverages.
SPORTS - ESTUDIO 21 PILATES
Valeria Roxana Anglada is a qualified Polestar Pilates expert and prenatal instructor. At her studio, Estudio 21, she will demand full determination and absolute focus, but her good mood and positive energy are contagious, making it fully worth it. Not to mention the how truly radiant and powerful you will feel after class.
Leave a few minutes after class to share a delightful maté. Valeria is an addict!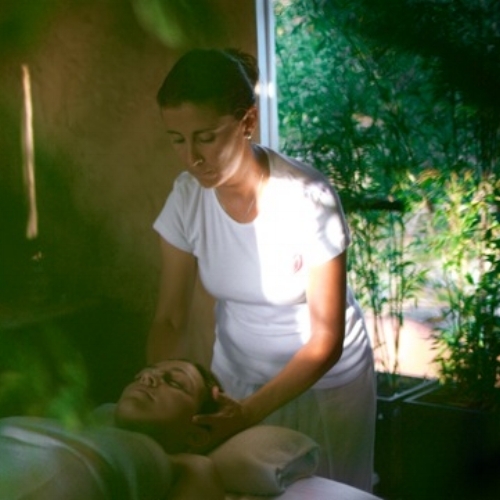 WELLNESS - SANDRA HACAULT
Sandra Hacault has been living in Ibiza since 2002. She was trained as a Chinese masseuse and enriched her practice in France and Asia. She is a great listener and her treatments are both gentle and confident.
Here, there is no default massage, each one is totally bespoke, so indulge in the beauty of letting go. Oh, and Sandra knows the island like the back of her hand, so feel free to ask her to share her favorite spots with you.
FOOD - SAVIA
Savia opened in 2002, and today it has become a total reference and definitely the most visited herbalist on Eivissa. They sell fruits, vegetables and herbs and work with local independent suppliers.
Don't expect anything fancy though, just total authenticity. And do have a look at their Instagram profile, it's a good one!
FOOD - ECOSHOP
Ecoshop is an ecological farm with a giant vegetable garden and a store, located on the road to Santa Eularia. On site, you can buy the produce from their garden as well as that of two other cooperatives, resulting in a substantial diversity.
A piece of advice: express your interest in their venture and they might organize a little tour of the vegetable garden for you and let you pick your own products. A great thing to do with kids.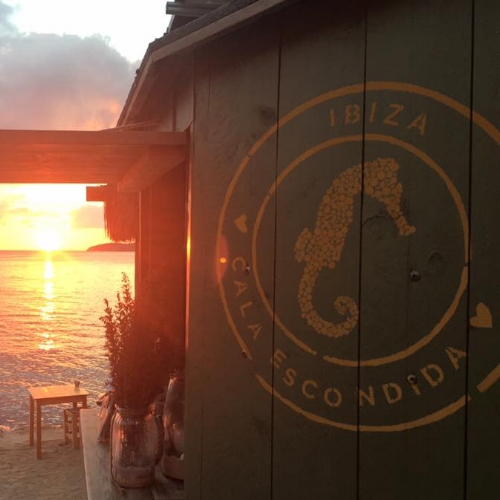 FOOD - CHIRINGUITO CALA ESCONDIDA
A really friendly place and the best beach bar at sunset. I recommend their veggie couscous and their sangria de cava but they also serve juices, signature drinks and organic cuisine. Founder Tess Harmsen is a local and acquired the place in 2015, with the aim to preserve and protect the natural splendor of his magical island. He is responsible for having created Ibiza's first fully solar-powered beach bar, combining design and sustainability.
But it's not easy to find... So first, you need to find the beach! Facing Sunset Ashram, walk along the seaside cliff on the left. After a few meters take the steps on the right. Welcome to Cala Escondida.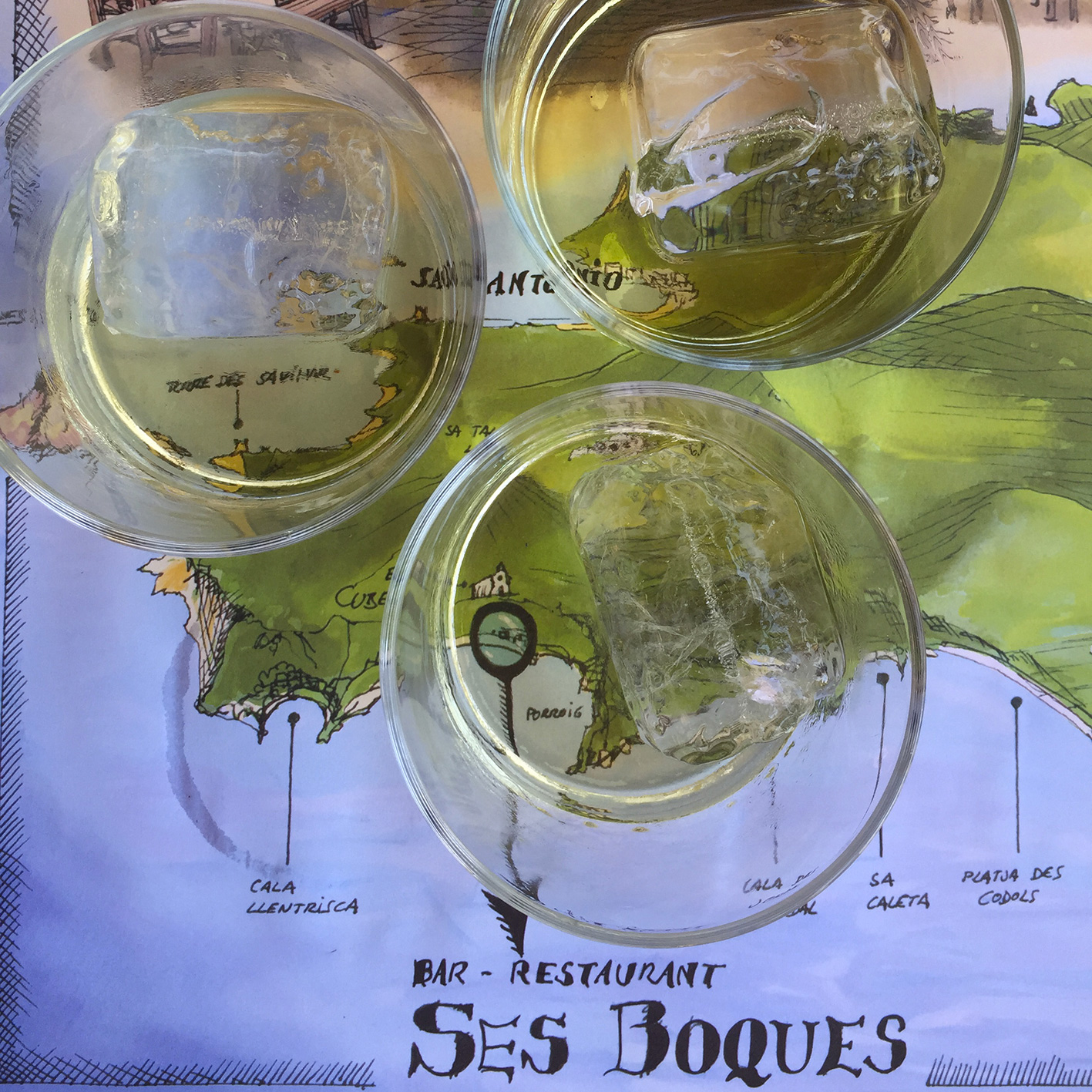 FOOD - SES BOQUES
Ses Boques is a classic on the island for arroz ciego paella (theirs is a 40-year-old family recipe) and roasted fish in salt crust. It's located in an authentic and hidden chiringuito on the south coast of Ibiza, next to the small town Es Cubells. The place might be simple but the food is tasty and the products are mostly local.
Note: In mid-August, Ses Boques was forced to close down for a bit due to storm damage. But the family should be re-opening the restaurant at some point in September. So support them if you're around and buen provecho!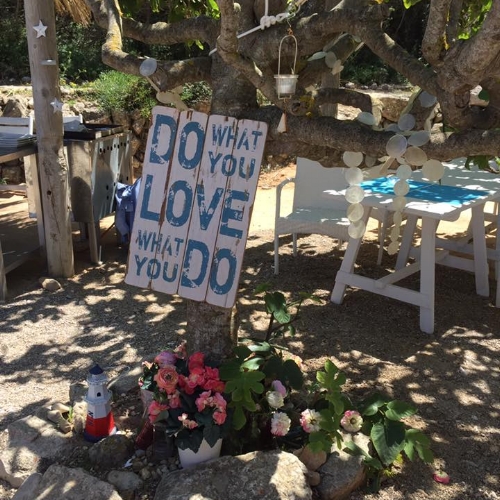 FOOD - UTOPIA
Utopia is the most secret chiringuito on the island! To access this magic beach, park in Port San Miguel and take the trail on the left. After about a ten minute walk, you will come across the little cove. The breams and fresh sardines a la plancha are worth the walk and all meals are prepared fresh every day according to local availability. The space is small and demand off the charts, so if you want to rent a bed on the beach during the summer, definitely book in advance.
SHOPPING - MAGO
Mago is an antiques shop on Santa Gertrudis road. This special shop is run by an Italian man who speaks a perfect French and offers a great selection of Scandinavian design. Go figure! He also has an impressive selection of original boards of printed textiles, African masks and stone music instruments from the Pinuccia Scola, worthy purchases to decorate your home and serve as unique post vacation souvenirs.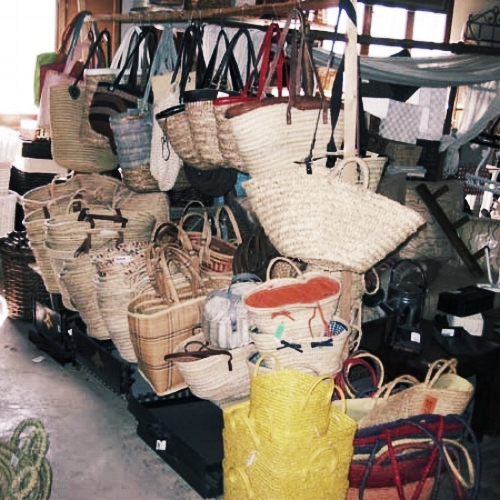 SHOPPING - JUNCO Y MIMBRE
Junco y Mimbre is located in a huge shack outside of the city. For over 50 years, the place has offered home furnishing and accessories in the purest Ibizan style. From baskets to furniture, rugs and boxes there is simply no better place for fans of wicker and rattan. If you happen to have an artistic bent and want to make your own basket, they also sell all of the materials you need to get your creativity on.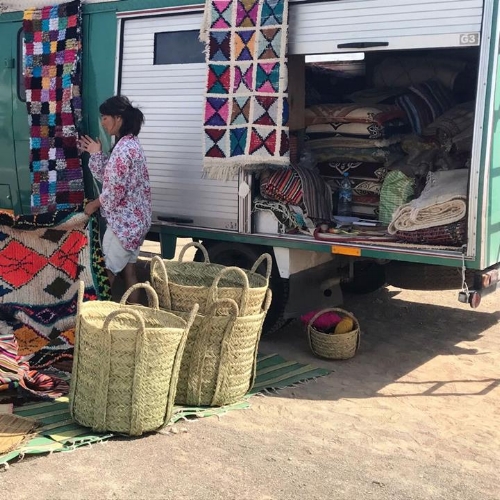 SHOPPING - SANT JORDI MARKET
The Sant Jordi Market is open every Saturday morning, selling everything from incense to vegetables, furniture to local crafts. My favorite stand -Vagabunds Ibiza- is run by two British women with a very beautiful vintage selection. And go see Nouredine, a charming Moroccan man selling furniture and tableware. He's not always there, so you will have to take your chance...that's how things go in Ibiza!