LIFESTYLE GUIDE: PARIS #1 - STUDIOS, COACHES & CLASSES
New year, new you? In this four-part series, Inside/Out shares an overview of Paris' best studios, our favorite coaches and a variety of the most enticing wellness spots the city has to offer. All the necessary places and players to help you kick off 2018 with a dynamic attitude and fresh experiences.
From intense training to more low-key moves, there is something for all styles and vibes in this 1st installment of our Paris lifestyle guide.
Le Tigre Yoga is opening a fifth location. After Le Tigre Chaillot, Le Tigre Rive Gauche, Le Tigre Deauville and Le Tigre Neuilly, Élodie Garamond, Hubert and Nicolas Saltiel will inaugurate their brand new holistic spot in the heart of the Marais on January 17th. Le Tigre Marais spreads over 480m2 to replicate the now-cult experience of its previous incarnations: an 80m2 conservatory for yoga, Pilates, dance classes, fusion barre, as well as TRX and boxing for cardio junkies! So what's new for this location? Just like at Studio Réformation, le Tigre Marais will host Reformer & Chair collective group classes for up to 7 people. Post class, sweat out some extra toxins in the Japanese sauna! Pro tip: take a Kundalini class with Aurore Lagache or Caroline Benezet, a leading teacher whose practice began in in NYC in 1997 where she was trained by Hari Kaur and Gurmuk at the legendary Golden Bridge studio. We're proud to count her as one of our experts. We especially love her non-denominational ambition: to teach her students to expand their intuition, unleash their full potential and face any situation.
Reformation is a new machine-based Pilates studio located in NoMa (nothern Marais), where you'll be able to take offering 45 or 55 minute classes for up to nine people at a time (although solo and duo classes are also available by reservation). The sturdy equipment (Reformer and Tower) is designed to stretch, tone, and reinforce the muscles and deeply transform your body with low to no impact. Book a Barre & Strech class with Cassandre, the founder, or a Tower class with Carlos, who hails from Brazil a certified dance teacher who started training at age 12. As a Pilates instructor, he studied "THE ORIGINAL PILATES®" method at the Studio Danse Pilates, under the direction of Mikaël Pulcini. A demanding and rigorous coach! Bonus point for the snacking by the organic canteen OPOA (goji berries and mulberry, energy balls all day, lunchbox to go that are available when you book your classes online), and the Ren products in the showers and bathrooms.
"Sharing and Caring" is the intention at KSHANTI, a studio owned by Catalina Denis, where students practice yoga according to skills and current mood. Housed in a former church, covered in ivy and jasmine, this brand new studio is housed in a quaint stone courtyard in Saint Sulpice. Take some time off to unwind and relax in this timeless place, seemingly far removed from the stresses of Parisian city life. Go deeper into the comfort zone and try the chromo-yoga classes, a unique combination of chromotherapy (light-and-color therapy) and yoga that said to boost emotional and physical well-being. The succession of postures is set to waves of changing color that represent the chakras. We also recommend the Yoga for Runners classes, a perfect complement to the strenuous sport to help relieve tension, reinforce weak spots and prevent injuries. We also recommend any class with Inside/Out expert Dasha Romanova and Kundalini with Camille Param Devi.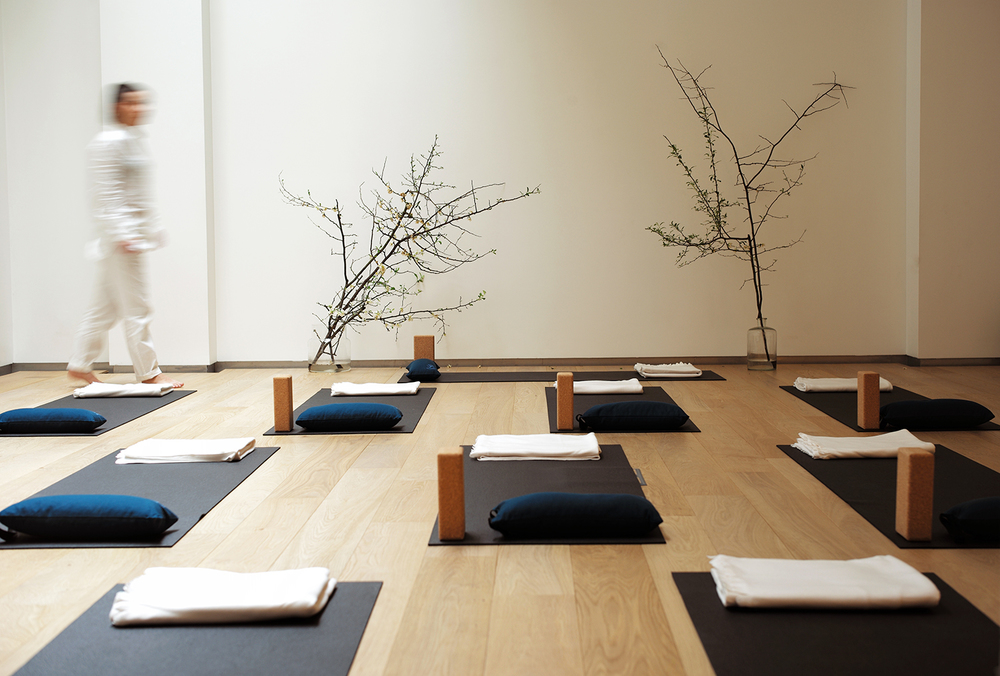 Centre Elément focuses on a holistic approach to wellness by training body, emotions and energy. Sign up for yoga, Pilates, Body Rolling, Qi Gong, dance classes, solo relaxation practice, meditation. Or consultation with a naturopath, get advice on Bach Flower remedies or sign up for an Ayurvedic massage. The CE experience is heightened by purified air, vivified water, therapeutic juices and a masterful mix of new technologies and natural medicine. The H2O area provides a welcome spot for a break over an exceptional teas, therapeutic juice, or organic infusions. And the shop has lovely products ranging from planters to carafes (designed with the golden ratio), sacred incenses, beauty products, linen poufs, and more.
Cluster is another brand-new Marais wellness meca. The 160m2 layout boasts enough space for a variety of workshops...as well as stories, selfies and people watching. The training equipment is designed for a thorough workout, and includes fundamental tools for a complete and varied routine such as jump ropes, a rowing machine, battle ropes, medicine balls, weights and kettlebells. The philosophy here is simple: group-oriented and fun, yet devised for pushing mental and physical limits. The intense workouts are HIIT-driven with a focus on beating boredom (more than 80 different exercises) so that the 45 minutes fly by. Bonus points for the Clinique and Bumble & Bumble products in the showers and bathrooms, as well as the visual identity.
An independent center for dance and art, Éléphant Paname also hosts exhibitions, concerts, conferences and shows, with a wide scope of styles, eras and disciplines. Its five dance studios offer every modern comfort, and are equipped with professional Harlequin floors. In terms of the classes and workshops we suggest Géraldine Werner's Barre Shape class, Acro Yoga with Mélanie Lo, or Ballerina Yoga with Carole Mélosi, a dancer at the Opéra de Marseille and yoga practitioner, who combines both disciplines to train flexibility, alignment, and balance. We're also big fans of classes in the Dôme, an epic room with an astounding LED-lit ceiling!
Aqua By offers small-group aquabiking classes, divided in three sections: warm-ups, cardio, and stretching, under the caring, watchful gaze of a coach, while listening to a carefully-curated playlist. Just like a regular cycling class, the choreographies are fast-paced, and designed to make sure you get a fun yet demanding cardio workout, burning about 500 calories in the process. Recovery is quick and painless, and you'll leave in high spirits, with deeper breath and feeling fit. Bonus point for the hammam at the Charonne studio.
Recently, climbing's reputation has been gaining ground (or height, rather) as an indoor sport with a bright future. Think of it as the perfect blend between a shot of adrenalin and a sense of total freedom. But don't take our word for it, head to Arkose, the first ethical (and aesthetically-pleasing) urban blocpark in Paris. This 1000m2 playground is located in a revamped school uniform factory, and the 200 climbing blocks that compose it are always being remodeled for new experiences! This spot is an invitation for free spirits to discover climbing culture, and also boasts an ethical bar and restaurant, a sauna, a laid-back work/chill zone, as well as exhibitions.
BATTLING CLUB BATIGNOLLES
Hook, jab, cross and combat at the Batignolles Battling Club. This female friendly studio is the real deal: raw space, an attentive staff and knowledgable coaches. On the agenda: French boxing, free fighting, wrestling, cross-training and women only starter classes (French boxing, without combat) targeting hesitant beginners.
Bonus points for the personal training sessions for 1 to 4 people and classes for kids starting as early as 3 years old.
Dynamo has been at the forefront of the Parisian indoor cycling revolution, offering a mix of coaching and cardio with a rhythmic approach (left, right, left, right!) and an eclectic hip-hop and electro soundtrack. Every class turns out to be unadulterated fun, as well as an opportunity to push physical limits, find inspiration, and to shine. That last part is essential, as any of the early members could tell you, and the effect is guaranteed. In this new year, Dynamo and Let's Ride merge to broaden the offer both in terms of coaches and studios. For our part, we continue to be regulars at Inside/Out expert Clotilde Chaumet's classes, the sweet spot between sweat and therapy.